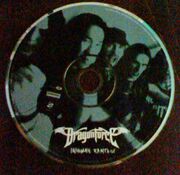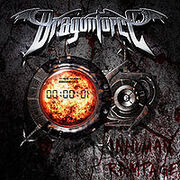 Inhuman Rampage is Dragonforce's third album released. In the U.S., Inhuman Rampage reached number 1 in the Billboards Heatseekers chart; it also reached #103 on the Billboard 200 chart; and the song "Through the Fire and Flames" has received rock radio and Fuse TV airplay, as well as a playable track on the videogame "Guitar Hero III: Legends of Rock" (as well as Heroes of our Time being also playable). Inhuman rampage has gone silver in UK, has sold over 350,00 units in America, and more than half a million worldwide.
Production
Edit
The recording of Inhuman Rampage took place at Thin Ice Studios in Surrey and LamerLuser Studios in London between March and September 2005 and during the recording of "Through the Fire and Flames", lead guitarist Herman Li snapped one of his guitar strings. Despite this, Dragonforce decided to keep this recording and left it on the final album version. It was then mixed at Thin Ice Studios by Karl Groom, Sam Totman, Herman Li and Vadim Pruzhanov and engineered by Karl Groom and Herman Li. The mastering was performed by Eberhard Köhler at Powerplay Mastering in Berlin, Germany. Also, the album had Clive Nolan and Lindsay Dawson as guest backing vocals.
Track Listing
Edit
Total Length: 62:27
Personnel
Edit
Band members
Edit
Guest musicians
Edit
Technical staff
Edit
Karl Groom - mixing, engineering
Eberhard Köhler - mastering
Graphic designers
Edit
Chie Kimoto, Daniel Bérard - artwork
Marisa Jacobi - graphic design
Axel Jusseit - studio photography
Julie Brown, John Eriksson - live photography
Managerial staff
Edit
Steve McTaggart - management
Josh Kline - agency representation (North America, with the Agency Group USA Ltd.)
Peter Dempset - tour management (Podie Ponk Productions, London)
Penny Ganz - legal representation (P Ganz & Co. London)
Mark Howe - business management (Entertainment Accounting International Ltd.)
Ron Zeelens - visa paperwork (RAZco Visa's, New York)
External Links/References
Edit
Ad blocker interference detected!
Wikia is a free-to-use site that makes money from advertising. We have a modified experience for viewers using ad blockers

Wikia is not accessible if you've made further modifications. Remove the custom ad blocker rule(s) and the page will load as expected.