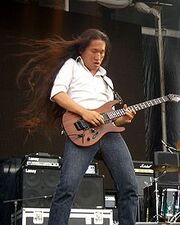 Lead/Rhythm Guitars and Backing Vocals


Herman Li is the guitarist behind those over the top hyper guitar fretwork, and part of the recording production core of all DragonForce records.

Born in Hong Kong on March 12, 1975, Herman is a self-taught musician, learning
mostly from listening to his favourite music and watching videos.

After having played in a number of underground rock and metal bands in London, Herman decided the only way for him to move forward, is to form a band instead of joining one. In the summer of 1999, Herman found a number of musicians in the UK to kick start a new band now known worldwide as DRAGONFORCE.

In between intensive world tours with DragonForce, Herman found time to write a monthly guitar column in UK's Total Guitar magazine. He has also given many guitar clinics around the world, showcasing his own approach to the instrument to help inspire guitarists around the globe. As well as evolving as a player, Herman likes to understand his instrument as much as possible. He is heavily involved in electric guitar development, working on new ideas to improve the instrument as much as possible.

Herman won the 'Best Shredder' award at the annual Metal Hammer Golden Gods Awards 2005. Together with Sam Totman, Herman recently won four categories in Guitar World's Readers Poll 2007 for 'Best New Talent' (winning by 70%), 'Best Metal', 'Best Riff' and 'Best Shredders'. They also won 'Best Guitar Solo' with Through the Fire and Flames in Total Guitar's readers' poll 2007 and numerous polls in other printed and online press around the world.

Year 2007 started nicely with Herman receiving an invitation to perform as special guest with guitar legend Steve Vai at the Ibanez Jem/RG model 20th Anniversary show in Hollywood, California. As well as playing on Steve Vai's set, Herman shared the stage on the evening all star jam with guitar heroes such as Joe Satriani, Paul Gilbert, Tony MacAlpine and Andy Timmons.

Outside of music, Herman's interests includes technology, martial arts and when not touring, enjoys training in Brazillian Jiu Jitsu five days a week. He also speaks three languages fluently
- All styles of music. Rock, metal new and old
- Video games music; favourites are from late 80's, early 90's arcade and PC Engine games.


Guitar lifting whammy bar slam
Playing with his tongue!


Guitars:
- Ibanez E-Gen - Herman Li Signature Model
- DiMarzio® HLM Pickups - Herman Li Model
- D'Addario Strings

Amplifications, Rig Setup & Misc:
Rocktron Prophesy II
Rocktron All Access
Rocktron MIDI Mate
Rocktron Patch Mate
Source Audio Hot Hand
MIDIjet Pro Wireless Midi System
Mesa Boogie Stereo 2:Fifty
Peavey JSX 4x12 Straight Speaker Cabinets
DigiTech Whammy 2
Dunlop Cry Baby DCR-2SR
Ibanez Weeping Demon
Rocktron Xpression
Rocktron Intellifex XL
Korg DTR-2000
Drink Holders
Shampoo & Conditioner in seperate bottles .
Ad blocker interference detected!
Wikia is a free-to-use site that makes money from advertising. We have a modified experience for viewers using ad blockers

Wikia is not accessible if you've made further modifications. Remove the custom ad blocker rule(s) and the page will load as expected.